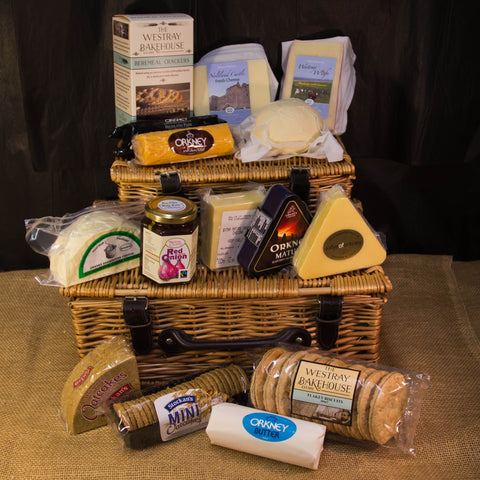 Luxury Cheese & Biscuit Box
£99.95
Can't get enough Orkney Cheese? Then our Luxury Cheese and Biscuit box is the box for you, filled with cheese, biscuits and oatcakes.
200g Orkney Mature Cheddar
200 Smoked Orkney Cheddar
200g Extra Mature Orkney Cheddar
1/2 Grimbister Cheese - Plain
Westray Wife Cheese
Westray Noltland Castle Cheese
Westray Cannonball Cheese
150g Smoked Cheddar - Chilli
150g Smoked Cheddar - Highland Park
200g Orkney Butter
200g Thick Oatcakes
200g Flakey Biscuits
150g Mini Oatcakes
Westray Beremeal Crackers
200g Jar Orkney Chutney

The cheese in this hamper is suitable for vegetarians.