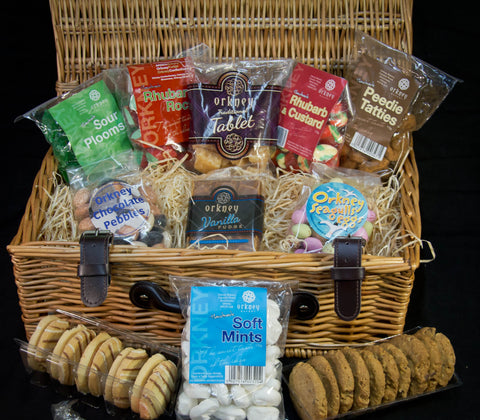 Orkney Sweetie Hamper
£53.95
Our Orkney Sweetie Hamper is filled with a generous assortment of everyones favourite Orcadian sweeties. 
A perfect Christmas gift for those with a sweet tooth, this hamper is bursting with traditional treats. 
Taste the sweet side of Orkney with this box of goodies.
170g Soft Mints

170g Peedie Tatties

170g Rhubarb & Custard Sweets

170g Sour Plooms

170g Tablet

170g Rhubarb Rock
200g Caramel Shortbread
200g Chocolate Hob Nobs
100g Orkney Fudge - Vanilla
140g Chocolate Seagull Eggs
140g Chocolate Pebbles
Pre-order now for Christmas delivery.