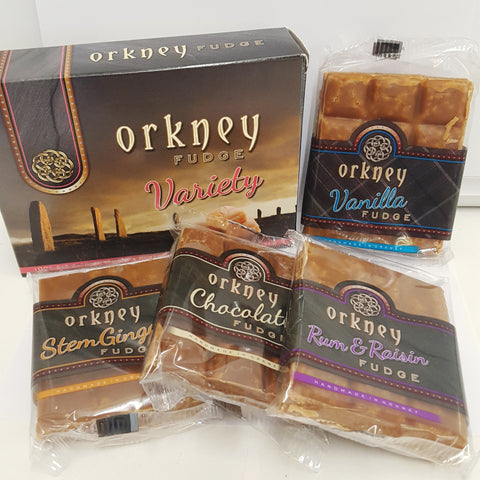 Gift Box Orkney Variety Fudge 400g
£12.95
This variety box of Orkney Fudge is the ultimate treat for those with a sweet tooth. Made in Stromness from a secret family recipe, it's an Orcadian favourite.
This little box of surprises is the perfect gift to share a taste of Orkney.
This Orkney Fudge is great eaten alone or makes a mean ingredient to an Orkney Fudge Cheesecake. 
Alternatively, you could give our Orkney Fudge and Apple Muffins a shot! Or if you are short of time, our Orkney Tiffin is a winner. 
This pack contains:
1 x 100g – Vanilla Orkney Fudge
1 x 100g – Chocolate Orkney Fudge
1x 100g – Stem Ginger Orkney Fudge
1 x 100g – Run and Raisin Orkney Fudge